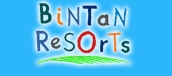 This tour package is designed for you and your family and friends to enjoy the beauty of Bintan Island, the greatness of its history and culture. Bintan Island is the origin of Lingga Malay Sultanate which one of it's main heritage i.e. Bahasa Melayu (Malay language) and its literature are the root of bahasa Indonesia (Indonesian language) today.
The royal family tree of Lingga Malay kingdom shows that a number of ruling Sultans in Malaysia today are descendants of Daeng Celak, one of the most respected Bugis warriors who later managed to sign a pact with the then Malay Sultan to jointly rule the kingdom.
Today you can see and enjoy the heritage of the great history and culture of Lingga Malay Sultanate in Bintan Island in many interesting objects, places and form through this superior package.
Day I: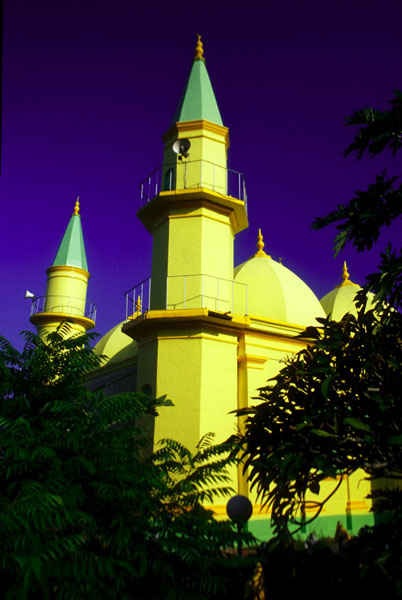 On arrival in Tanjungpinang either by ferry or plan we'll check you in into one of our reccomenden hotels in the city and then bring you for lunch at of the finest local food restaurant. After that we'll bring you to the former Riau Lingga Malay Sultanate sites on Penyengat Island.
The formal royal name of this island in Malay is Pulau Penyengat Indera Sakti. A beautifully designed and old mosque built by one of the Sultan in the beginning of 20 century is still used by the local as well as visiting moslems for prayer until today. The thomb of some Malay Sultanate royal families are located here including the famous Prince Engku Puteri Hamidah.
The other option for you is to visit the newly build Buddist Temple Avalokitesvara Grash in Tanjungpinang and the centuries old beautiful Buddhist temple Dharma Sasana located in Senggarang.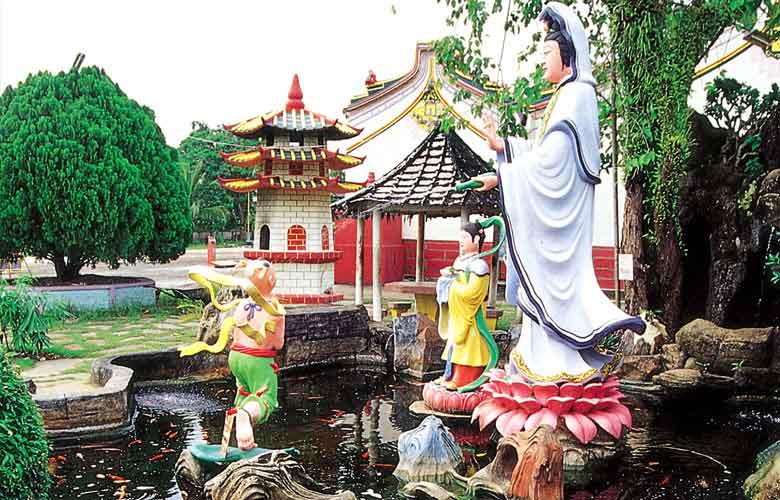 After that we will bring you to watch Sunset at Sadaap Restaurat beside the sea of Tanjungpinang;
Dinner with sea food at one of the finest restaurat in Tanjungpinang will close the tour for the day before we send you back to your hotel.
Day II: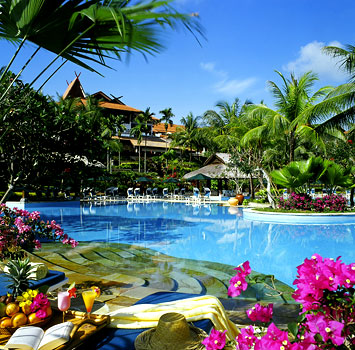 After breakfast at the hotel we will bring you to Bintan Resort, one of the rising international tourist destination in the region today. Shortly after your arrival and check in at Bintan Lagoon Resort hotel we will bring you lunch at Pasar Oleh–Oleh.
Our next tour after your lunch is to see Elephant show.
After that we will bring you around Bintan Resort to see some endangered species big statues such as Komodo, Orang Utan, Sumatera Tiger, Dugong, Garuda and Java Rhino.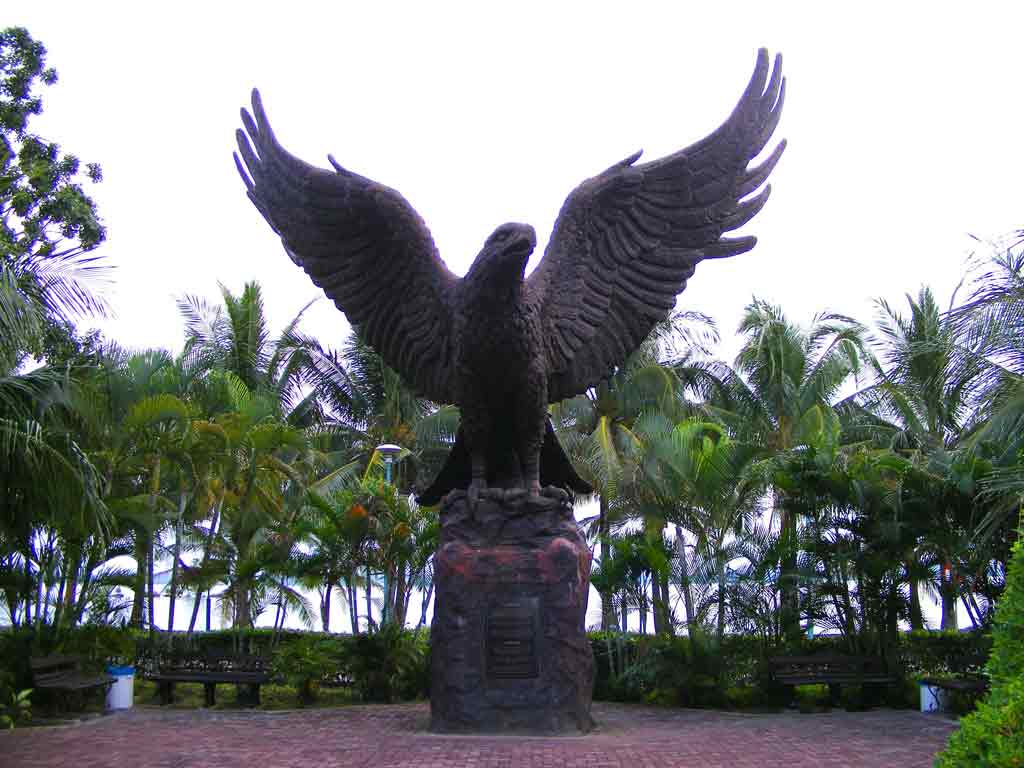 After that you can choose either to to spend your time Go Karting or water paddling at the resort huge and beautiful reservoir.
After that we will bring you to shop for fine jeans and other coutour collections at factory outlet at the local price
After that we again will bring you to a local sea food restaurant built on the sea located outside of the resort to give you a chance to see the resort from the other side at night.
Day III: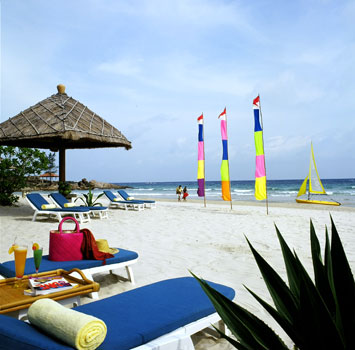 Before lunch we will let you free and easy to enjoy yourself the hotel facilities: the pristine beach, sport facilities such as lawn tennis, table tennis etc or golf driving.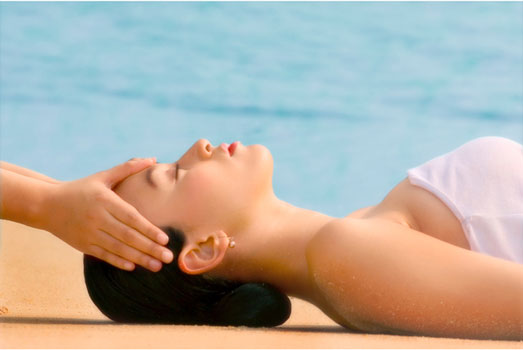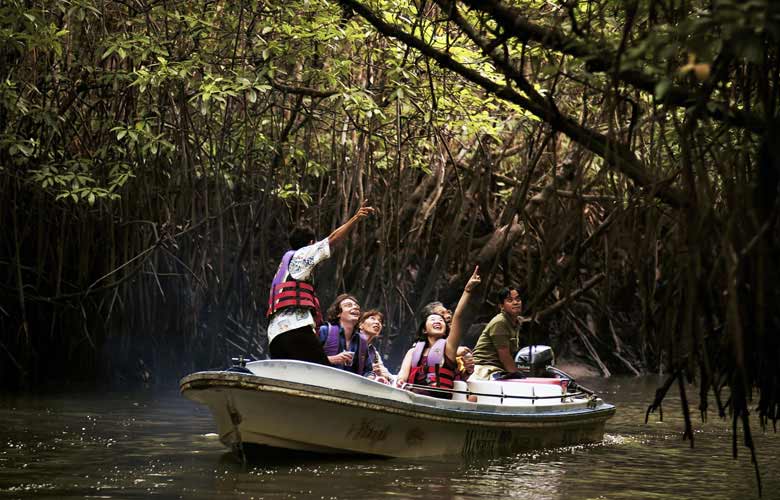 After lunch at we will bring you enjoy the PATA AWARD winner Mangrove Tour along well preserved mangrove forest in the resort. This tour will give you an exposure to the mangrove forest habitat and animal and flora species living there such monkey, snakes monitor lizard, something that will last long in your memory.
After that we will bring you shopping for local gifts and mommentos at Pasar Oleg-oleh and Kampung Oleh-oleh gift market before we bring you to either a Thai food menu at Baan Aarya Restaurant or at the Kelong Restaurant in the resort;
Day IV:
It is free and easy for you to enjoy the hotel facilities on your own such as the beach, spa/massage, tennis court, driving range or even golfing at one of best the golf course in the region designed by Jack Nicalaus.
Buffete lunch at the hotel before we check out from your hotel at 12.00 am will close this tour.
For further information abour this tour please contact us:
ANUGERAH INDONESIA TOUR & TRAVEL
Comfort Hotel & Resort
Jln. Adi Sucipto No. 10 Tanjungpinang
Kepulauan Riau
Indonesia
Telp. +62771 7003597 or +62 771 41158
email: reservation@anugerah-indonesia.com
Other package to enjoy the beauty of Bintan Island and its culture with different itinerary and budget are also availble for you.